Stucco showers
More about showers
Hello, really like your web page and have a question for u. We are originally from Europe and big fans of the stucco. Now based in the midwest we would like to build stucco / plaster shower enclosures, instead of tile. We like the free forming opportunity. We have not been able to find material here in the Midwest. In Cal we found Merlex, but nothing here in Ohio. Do you have a recommendation for us. What material to use? Premix/ Mix ourselves.
One question about the smoothness of the finish. What we always try to accomplish in Europe is to get to the finish that is smooth and hard enough that it can be wiped off and is easy to clean even in the shower area where it gets wet all the time. Have you been able to accomplish that?
More about stucco showers
Keene's cement can be troweled smooth like any kind of plaster. It will bond to a rough cement basecoat, as well as gypsum plaster basecoats. I am sure you want a cement basecoat in a shower. A white portland cement and sand basecoat can be troweled smooth, if you have the skills to do it. Cement would be my preference.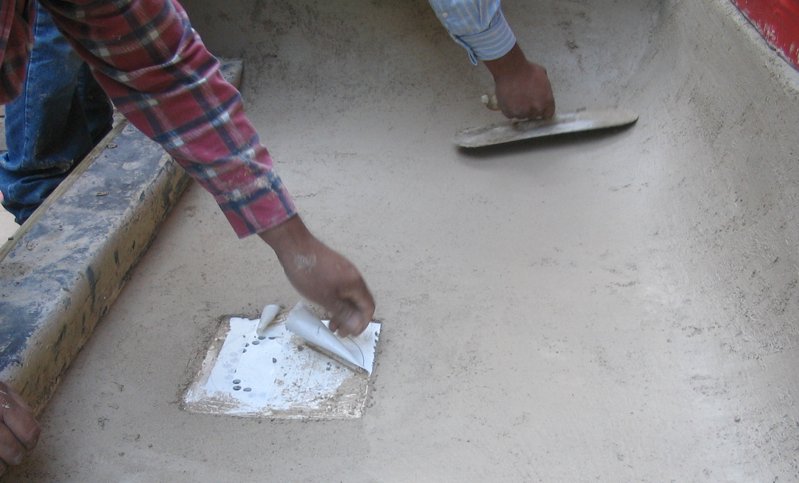 Drain is covered with tape. Finish coat overlaps the edge of the drain. Tape is removed before the finish sets up all the way.
Never nail through the floor !
The most important thing is to never nail metal lath through a rubber shower membrane. There is no need to nail metal lath to a floor, the force of gravity will hold it in place. If the lath doesn't lay flat, it can be tied together where it overlaps with tie wire.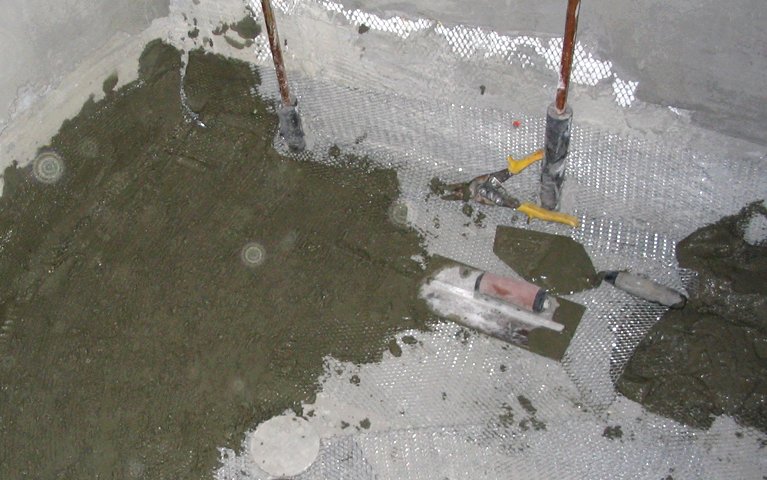 The metal lath is tacked up on the wall, above the rubber membrane.
We worked on a house where a tile contractor put in a mud base (cement mortar) floor. They nailed the lath through the rubber membrane. When this shower leaked, it ruined my new color plaster ceiling in the kitchen, as well as the natural color cabinets. Another critical observation is that the drain must finish just below the finish coat. Some of these drains are adjustable with screw threads. Ideally, the base coat should finish flush with the edge of the drain, and the finish coat should slightly overlap the edge. A stucco shower achieves an appearance one can't get with tile or any other material.
Milestone is a great material for showers, but I like portland cement and sand. Of course, we use a lot of acrylic in our finish coat. We mix flex-con half and half with water in our finish coat. This makes the mortar far less permeable. It doesn't hurt to use acrylic in your basecoat, either.