MAXIMUM ALLOWABLE DEFLECTION

We are stucco contractor performing work on a military facility I am having a problem with the stucco that we installed. We are finding that the stucco is buckling and cracking in symmetrical pattern. It's not a typical spider crack. The structural of the building is a steel framed deflection system with 5/8" exterior sheathing with waterproofing membrane applied to the sheathing and 2.5 paperback laths with 5/8" stucco applied. We did every step correctly by manufacture recommendation, at first the buckling didn't
appear, paint when on and after a month and in half the buckling started showing up. Keep in mind that this is an active construction site and heavy equipment is concisely moving around these building. There is drywall being installed to the interior of the building and the roof was loaded after stucco . Ok that is my scenario. Base on this can you give me some type of guide to help me educated my contractor and their owners.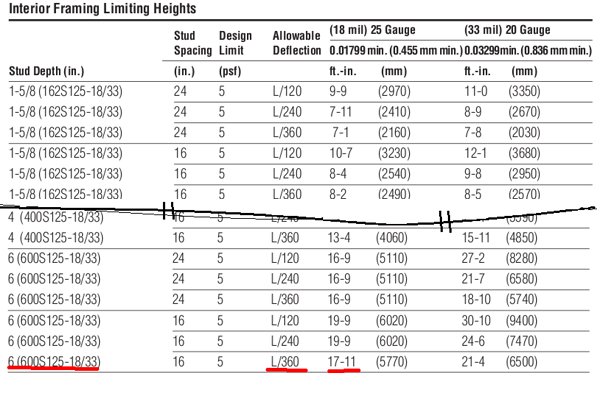 Chart from the Gypsum Construction Handbook

A likely cause of the stucco buckling is that the limiting height of the metal stud assembly allow for too much deflection.
The maximum allowable deflection for a lath and stucco assembly is 1/360, whereas a drywall assembly may have a maximum allowable deflection of 1/240 or 1/120.
What this means is that a wall 360 inches high, or 30 feet, cannot move more than 1 inch when pushed on.
The limiting height chart on page 76 of the Gypsum Construction Handbook has guidelines for steel framing as accepted by the industry. The Gypsum Construction Handbook is available as a free download from the
United States Gypsum website:
http://www.usg.com/resource-center/gypsum-construction-handbook.html
You can usually get a paper copy free from a USG dealer.
The old Gypsum Construction Handbook (I still have a paper copy) shows the maximum allowable deflection for a lath and stucco assembly to be 1/360. USG dropped the info for stucco when they discontinued making Oriental Stucco, their excellent cement stucco finish.
The Portland cement association shows the maximum allowable deflection for lath and stucco to be 1/360 as well.
Check the dimensions of the stud wall and look it up on the chart, you may find that the design doesn't meet the 1/360 criteria, in other words, it is too flimsy for stucco.
Applying the drywall after the stucco sure didn't help, and neither did the heavy equipment. We put in a big ceiling on a military base once where the whole ceiling shook while they were working on the parking lot. These machines are heavy and huge and create a lot of vibration.
I think the framing is the main source of the problem here. The other
conditions sure don't help.