Adding color to cement stucco finishes.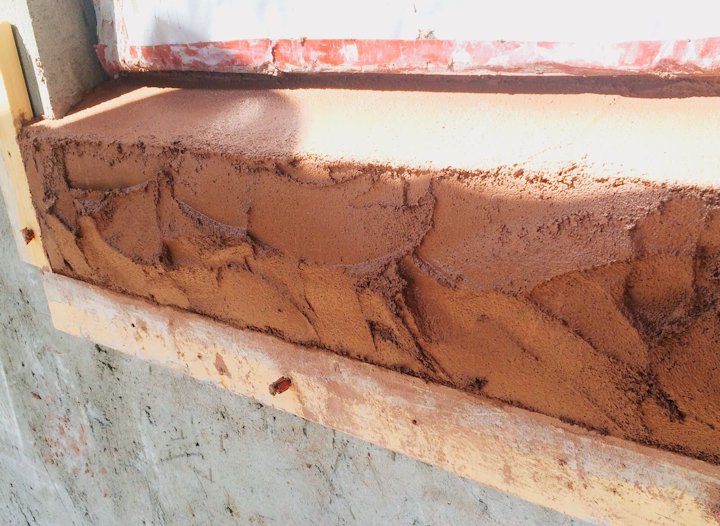 Faux split face brownstone window sills are done with paint tint from the paint store.
I have had questions on how to get the Color in our stucco finishes. Expo stucco had a color matching service, but unfortunately, went out of business March, 2017. We have used Merlex stucco before, and they made custom colors for us, but they haven't returned my phone calls lately, so I don't know if they still make custom colors.
As a warning, atuxxo colors are approximate only, and should be expected to come out in a range. Even an exact mix, put on a wall one day, can vary in color if put on another wall the next day, even if conditions such as temperature, humidity, etc. are the same. Integral color finishes usually have mottling and varitions in color which show off it is real stucco and not paint, like synthetic stucco, for example.
I was turned on to using paint color in plaster and cement stucco finishes by the late Don Miles, who I have written about, here ,here here, and here.
Plastic cement in California has a small amount of a plastic chemical that adds plasticity and color retention. This is a cheap chemical that works great. The cement in California already has a chemical additive that doesn't add much to the price. There used to be an additive that would change portland cement to plastic cement for only about 4 cents per bag of portland. I got a free jug to try, but at the time I was doing federal government work and I couldn't be seen using any materials that weren't on my approved material list. Flex-con costs a lot more than this plasicizer, but improves the quality of the product dramatically and is well worth the investment.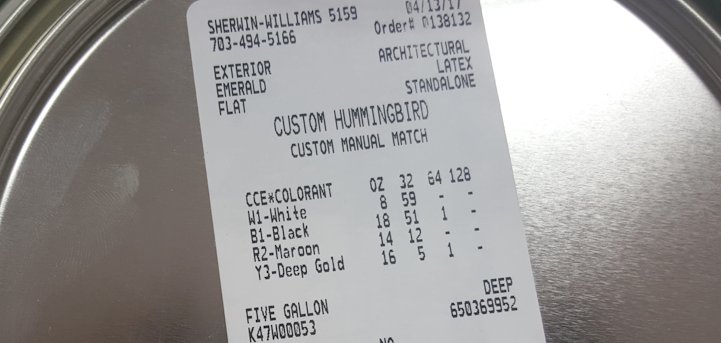 The sample I made for hummingbird was way too white, so I multiplied the color X 2 and then X 5 for 5 gallons.
This is the formula for 1 gallon, times ten for 5 gallons of liquid.
Don Miles' recipe for stucco finish was just like ours: 1 bag white portland, 1 fourth bag of lime and 20 shovels (about 4 cubic feet) of silica sand. The difference is that Don used a 50-50, that is half and half, mix of acrylic and water in the finish, and not just water.
Our attempts to use California colors in the past were usually splotchy and too varied. I even had pre-mixed stucco finish shipped from San Diego, which was real expensive and inconvenient.
Bear in mind, stucco colors can blotch, and do bleed and fade with time. I some areas, with heavy air pollution, the colors grow dark and stained. But it sure looks nice, imperfections and all.
My first youtube video I ever made back in 2011, shows how we mix powder color, or California color in our finish coat.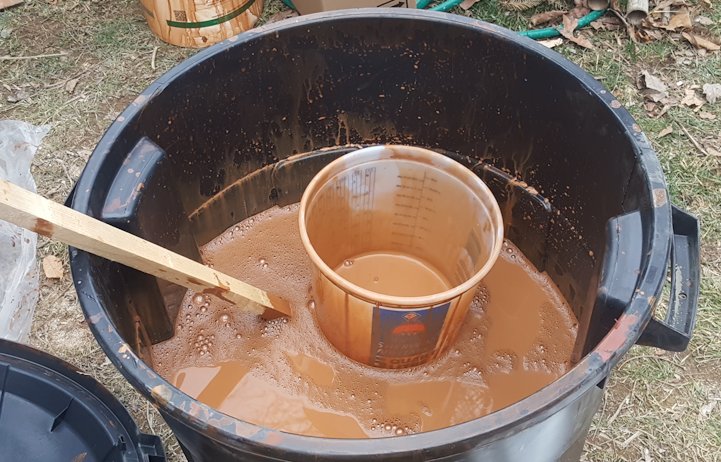 20 gallons of liquid is made in a 32 gallon garbage can
That is 10 gallons of water, 10 gallons of flex-con, and 4 containers of color.
One terrible problem we have had with California color is in cold weather they blotch real bad with big white splotches. We have had to re-coat stucco ar paint stucco for free. Anytime the temperature goes down to near freezing before the mortar sets up the finish blotches real bad. We have found paint colors don't splotch so we can work outside in cold weather confidently without leaving splotches.
The results from paint colors are more unpredictible, and one is at the mercy of conditions. I found some Sherwin-Williams paint stores that will make colors for me. You don't want to ever use Bejamin Moore colors. They come out real yellow. Even the cross references for Sherwin-Williams from Benjamin Moore have come out way too yellow.
I have bought paint color, called paint tint, in large quanities and made my own colors. However, this is when I had complete freedom of the color and measured paint tint with capfuls.
Computer paint matching is precise and is measures to the 128th of an ounce. The old color wheels also work fine, but the computerized method is faster and reliable. I was also glad to find out the color mixers at Sherwin-Williams use Linux.
My first step is to find a color on the Sherwin-Williams fan deck and make a sample. I get enough color in a can to make a gallon of paint. Even hough I don't use paint the colors come out usually very close. This is mixed in a gallon container with a half and half mix of flex-con and water. This is then mixed with some dry mix, that is our white portland lime and sand mix, and then put on a block. I found a block, that is a CMU is an excellent surface to put on a sample color. The surface is rough and porous just like a cement basecoat, so the colors come out right. This avoids having to make a sample board with lath and a cement basecoat. One should avoid putting samples on surfaces like plywood or durock. The mortar won't bond and the surface isn't porous for an honest comparison. One thing that affects the color a lot is how porous the basecoat is, or that is, the porosity or porousness, both are correct words.
Another advantage of using blocks is they are portable, and can be held up to different surfaces. Also, blocks can be stacked up, if a larger visualization is desired.
My next step after I make my block and get it approved is to go to the paint store and get color for my job. I get this in cans with enough to make 5 gallons of liquid per can. You can get more, but the smaller quanities make mixing the color more idiot proof. Having color in cans enough to make 5 gallons at a time avoids waste and better modulates the color. For example, if we only need 5 gallons worth of color to finish a job, that is all we use. Bear in mind, flex-con isn't cheap either.
Color is mixed 20 gallons at a time in a clean 32 gallon garbage can. The cans are washed out into 5 gallon buckets. Remember, 20 gallons is 2 five gallon buckets of water and 2 5 gallon buckets of flex-con.
20 gallons is enough to mix over three bags, or do about 600 square feet. Our dry mix is mixed in a mortar box. Mortar is mixed with a drill by adding our liquid mix to a 5 gallon bucket and shoveling the dry mix into the bucket.
This same method can be used for homemade color concrete, brick mortar or whatever.