Synthetic Fraud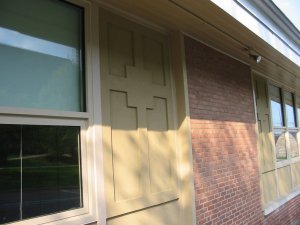 These foam and EIFS crosses were supposed
to be Cement stucco with a color cement finish.
I have a lot of first hand knowledge of these buildings
at this church in Arlington, VA. I bid on the stucco with
Whitener and Jackson, a old customer of mine, who
didn't get the contract. One of the reasons may even have
been the cost difference between cement crosses and
fake EIFS garbage.
This church has been a good customer of mine through the
years as well, so it is sad to see them deceived by
the substitution of a lower quality material.
We put this lath and plaster ceiling in the same building
as the fake crosses about 5 years ago.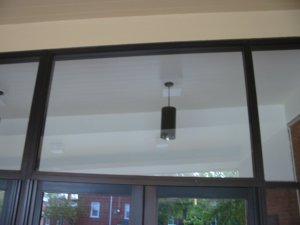 We put in this lath and stucco ceiling in the main entrance
of the church about 3 years ago.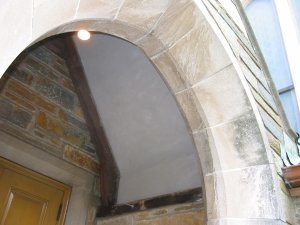 This sort of substitution of a cheaper grade specified
probably happens every day, victimizing an unwitting public.
The unfair competition to the honest plasterer playing by the
rules is continuing to undermine my industry. It would be
more infuriating to me, but we seem to always have plenty of
work, but it still is grossly unfair.
At $40,000 plus it costs to put EIFS on a high end
home, this is probably the largest consumer fraud in our
history.
I know of of other cases here in the Washington area,
where the Architects specified cement stucco with an integral
color cement finish, and the end consumer received EIFS,
or synthetic stucco.
I would be a lot more vocal, but people tend to feel
bad when they are gypped.
Don't be a victim of fraud. Always check to see
if you have the real deal. If it's on the plans, it should
be on your building