Crooked lines hide patches
We squared off the patches for you using a carbide blade.
I thought this will help you to have straight lines.
Crooked lines are better. You can see straight lines from window infills, etc. a mile away. Cutting back the edges of the patch leaving a crooked line also provides good overlap for metal lath: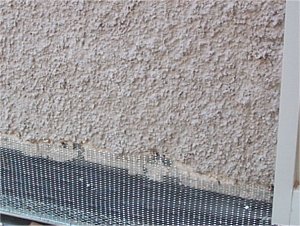 Edge is chopped back with a hatchet.
Note how the new metal lath overlaps the old.
This patch is a necessary evil for new roof flashing. Sometimes the stucco is so hard an electric chipping hammer is needed.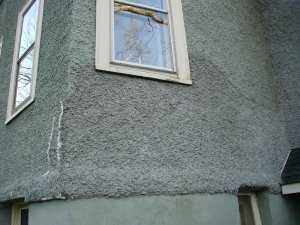 Curving line makes this patch virtually invisible.
Straight, horizontal lines are the worst.
People view things horizontally. Even a straight line at angle
is a lot less noticable. Try it- its true.
Of course there are exceptions. For example a very thin 2 inch patch
next to a window replacement may be a lot more conspicuous if it was
larger.