Reggie:I have a 17 year old Tudor in Pittsburgh, PA that just exposed water damage on one side of the house. It appears the construction is stucco coating, over OSB board, over heavy mil plastic sheeting, over a foil wrapped board and onto wall studs. The framing is stained cedar. The leakage is migrating out from a horizontal cedar board and to the surface of the stucco. My guess is that the seam between OSB boards lies under the cedar board. The framing has no caulking and no flashing. I do not see any mesh, definitely no metal mesh.
1. What is the foil board?
2. What options are available to upgrade this construction to a more durable one and hold same thickness to match window depth?
3. Is caulking between framing and stucco recommended?
4. Is some kind of flashing recommended, if so describe type?
5. Can this be an insurance claim, eg. are there any known
construction uses that have had historical claims?
6. What to do about other sides of the house?7. What is Tyvek
wrap?
8. Are pre-stucco panels available to buy and recommended to use? Finish is skip-trowel pattern.
What you may have is a material that came out about
17 years ago and was an early form of synthetic stucco.
I have only seen this once and had someone write me
from North Carolina that had this on his house.
It was applied to the foil covered foam sheathing.
This material came in bags and was mixed with a
drill and applied to the foil sheathing. The house we worked
on was an owner built tudor style house in Alexandria.
We stuccoed a stair tower that was started years before
and never finished. We used lath and stucco, of course.
The then current owners showed me the leftover bags
with instructions on how to put it on foil-backed sheathing.
I required no lath. The owner put it on real rough and painted it white.
I don't remember who made this stuff and have only
heard of it twice.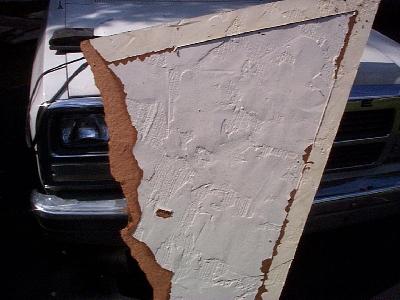 Masonite-another form of fake stucco
Another material you may have are the pre-made stucco boards
you referred to. These were used on a lot of tudor style houses
in the last 30 years. They are masonite(see attachment) and
I think they quit making them after the lawsuits over masonite siding.
MASONITE I copied this from Here
Masonite Hard Board - (Masonite) - did have a class action suit filed. The hard board siding was not used a great deal in the Pacific Northwest but you do find it from time to time. Most of the Masonite hard board siding came in panel form. On expensive
homes you might find the Masonite "clad board". This is where Masonite covered the hard board siding with a "stucco" appearing material. This material was used on houses where people wanted to have a "tudor" looking home. If you have Masonite
Hard Board siding you may call their claim line at
1-800-330-2722.


Here is a picture of a piece we tore of a 15 year old house.
We pulled it off with our fingers.
Even if they still made this I doubt you would want this stuff on
your house, if you knew what it was. It has about the strength of
cardboard. Still, you may have it and probably can file a claim
with the manufacturer.
Ideally a tudor house should have a flashing over every
horizontal member. Most people elect not to do this
due to appearance. You honestly can only see 1/4"
of the flashing and usually these are so high off the ground
you can't even see them unless you really stare.
We are getting ready to stucco an addition to
match an existing house where the tudor boards were never
flashed. You can see where the paint is peeling and the boards
are probably rotting. I should insist that they be flashed first
to protect the stucco.
Assuming the house has real stucco:
These boards( the horizontal ones only) can be flashed
properly if you cut off part of the stucco over the
board a few inches to nail the flashing tight to the sheathing.
Then the stucco needs to be patched to overlap the sheathing.
If you go to this extreme, you may want to do the entire panels
so the patch doesn't show.
You can get pre-made flashing at Home Cheapo for about $2.50
A 10 foot length.
Yes, you should have caulking, but caulking shouldn't be relied
on 100% to keep the house from leaking.
Tyvek is a plastic vapor barrier applied to sheathing, like tar-paper.
I like tar-paper better.
If this is Masonite or the stuff applied over foil board you can
upgrade to real lath and stucco. Pittsburgh has a reputation for
good plasterers and I'm sure you can find someone in your area.
Hope this all makes sense.