column:
Warning:
synthetic stucco finishes are highly toxic.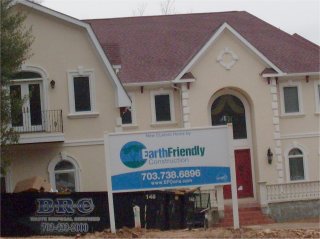 House near Tyson's corner, Virginia.
Earth friendly ? Don't believe it! Nothing earth friendly about synthetic stucco finishes or EIFS.
According to TOTAL WALL, a synthetic stucco manufacturer, Goggles must be worn, also rubber gloves, and full coveralls when using their synthetic finish. If not in a well ventilated area, you must wear a mask with "dust/mist/ fume cartridges. This finish also contains carcinogens, known to the state of California to cause cancer.
All this information is on their web site. Click here to view a PDF file.
STUC-O-FLEX, another large manufacturer of syntetic finishes says to use wear NIOSH approved organic vapor respirator, provide adequate
ventilation, as well as wear chemical resistent gloves and goggles or safety glasses with side sheilds.
They also say, "Prevent from entering waterways, sewers, and/or low areas.".
Also, their finishes are high in VOC's
Here is the quanity of VOC's contained:
Coating VOC = 27 g/L
Material VOC = 20 g/L
I don't know what is high VOC's or low VOC's, but this seems high to me. VOC's are volitile organic compounds which could emit gases. The point of green construction is to use materials with low or no VOC's. Don't believe me ? All this information is on the Stucoflex website: Click here for a pdf file.
Manufacturers of materials are required to provide Material Safety Data Shetts, of MSDS's, wit information about hazards of using their material.
These MSDS's are usually available on the manufacturer's web site, or by request.
More......

I made a site map. Click here if you get lost. See how Swami was born.
Ask the pros
by Reggie Bullard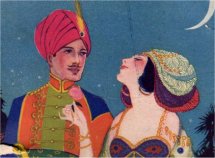 Swami Stucco
Mystic secrets revealed.
I get at least 3 good questions a week. Here are a couple. I try to answer everybody.

click here to write.
reggie@rtbullard.com


QUESTIONS
What is a durock "system" ?
Re-coating painted stucco
(and unpainted).
Thanks for visiting
my site.
Dear readers,
Thanks for all the kind words and comments.
I fell way behind on publishing my site mostly due to the pressures of the every day hustle and bustle of the plastering industry. I still answer questions daily and am still alive.

Please check back as I plan to publish more frequently, like before.
A site with 20,000 hits a month deserves
updating regularly.


I am in Northern Virginia, in the Washington, DC area.