Gaps around windows
Reggie,
We just had our porch redone and windows installed in place of screens. We live in Florida and water was coming in through the
screen windows and seeping between the stucco walls which began to bow and crack. We decided to redo the porch with glass
windows and removed all the old stucco and wood. Once the porch was rebuilt and windows installed we had the stucco guy come
over. The stucco has been applied with a raised trim around the exterior windows. The problem is we are not sure if they put the
stucco on right. We have a wood frame porch.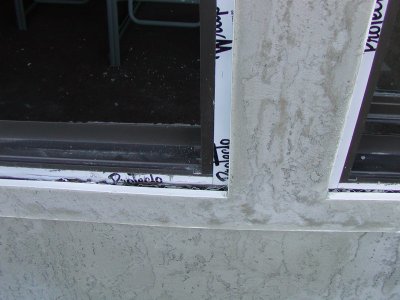 I don't know why there is a gap around the windows. It should have a wood
trim or the stucco returned to the edge.
It is obvious why the wall is leaking.
I have been out on 2 consulting jobs (I have a consulting business
born from this web site) where there were large gaps around the window
much like here. The explanation was to leave a gap and fill it with caulking.
This was probably started by EIFS people. It makes no sense to me.
First of all, if you are relying on caulk to prevent water infiltration, you are
relying on faith. Secondly, who wants a nasty looking glob of caulk around their windows.
I don't know whose idea this was, but it should stop.
On a nice house like this with a swimming pool, and everything, why not
hire an architect ? Sometimes they only charge a small amount for an initial
consultation, and since they are a third party, have no reason to steer you
wrong.