monthly column
Patch and match
past issues
July
September
visit my company
site
www.rtbullard.com
Links:
Based in Seattle, WA
Great portland cement finishes:
This month's column
Patch and match

Old stucco houses have an unlimited
number of patterns. Here an 1920's
tudor style house with a new addition
has a scallop type finish applied.
The finish is applied in two steps:
first a scratch coat and then the blobs.
Click for more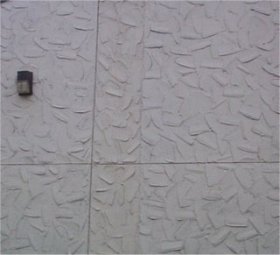 Here is a patch on a newer scallop style building we did 4 years ago.
It is at the rest area on I-95 going from
Baltimore to Washington.
Click for more
Ask the pros
by Reggie Bullard I get at least 3 good questions a week. Here are a couple. I try to answer everybody.
click here to write. reggie@rtbullard.com


QUESTIONS:

I am in Northern Virginia, in the Washington, DC area, but please write me from anywhere.