monthly columns:
Another tribute to Don Miles
past issues
July
visit my company
site
www.rtbullard.com
Links:
Milestone
hybridized portland cement
Based in Seattle, WA
Great portland cement finishes

This month's columns
Another tribute to Don Miles
and Milestone products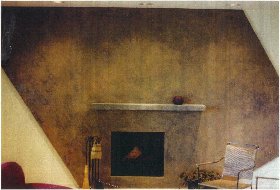 Another tribute to Don Miles.
More pictures of Don Miles work.
The tribute to Don Miles' work last month really blew people away.
I scanned these pictures from photos that Don sent me.

Click here to see more of Don Miles work.



Next month: Stucco as art.
Photos of beautiful stucco on buildings around the Washington, DC area.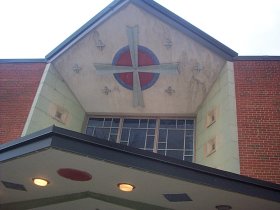 Nice old stucco ceilings with terrazo
appliques on the front of this church
in Arlington, Virginia.
Please check back.
Ask the pros
by Reggie Bullard

I get at least 3 good questions a week. Here are a couple. I try to answer everybody.
click here to write.
reggie@rtbullard.com


QUESTIONS:
How do I clean my stucco?
cracks in stucco
Whitewash formula
In the News:
Rock lath is back!
United States Gypsum which quit making rock lath last year, has started making it again in their Norfolk, VA plant.
The new lath will come in 2 foot by
8 foot sheets, instead of the traditional 16inch by 48 inch sheets.
Thanks for visiting
my site.