monthly columns:
Stucco as art
questions and answers
past issues
July
August
September
October
November
January
February
visit my company
site
www.rtbullard.com
Links:
Milestone
hybridized portland cement
Based in Seattle, WA
Great portland cement finishes

This month's column:
Stucco as art
Photos of beautiful stucco on buildings around
the Washington, DC area.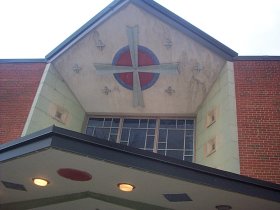 Nice old stucco ceilings with terrazo
appliques on the front of this church
in Arlington, VA

Ask the pros
by Reggie Bullard

I get at least 3 good questions a week. Here are a couple. I try to answer everybody.
click here to write.
reggie@rtbullard.com


QUESTIONS:
Removing frozen stucco
Click for more
How much of a gap do I leave at the bottom?
Click for more
How long do I let the stucco cure before painting?
Click for more

Thanks for visiting
my site.