monthly columns:
Number 5 in my
12 point list for preventing
cracks
questions and answers
Absolute plastering
past issues
July
August
September
October
November
January
February
March
April
May
June
August
visit my company
site
www.rtbullard.com
Links:
Milestone hybridized portland cement
Based in Seattle, WA
Great portland cement finishes www.artisanfinishes.com

contact me
Swami's back !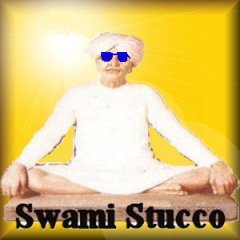 Swami was just too cool. I brought
him back this month due to popular
demand.
12 point list for preventing cracks

Point five in my twelve point
list for crack prevention. click here.

Please check back.
I want you to read this stuff
Ask the pros
by Reggie Bullard

I get at least 3 good questions a week. Here are a couple. I try to answer everybody.
click here to write.
reggie@rtbullard.com




QUESTIONS:



Sandblasting and resurfacing
1940's bumpy stucco.

Accelerator for
stucco moldings


All styrofoam isn't
garbage




Thanks for visiting
my site.



I am in Northern Virginia, in the Washington, DC area, but please write me from anywhere.